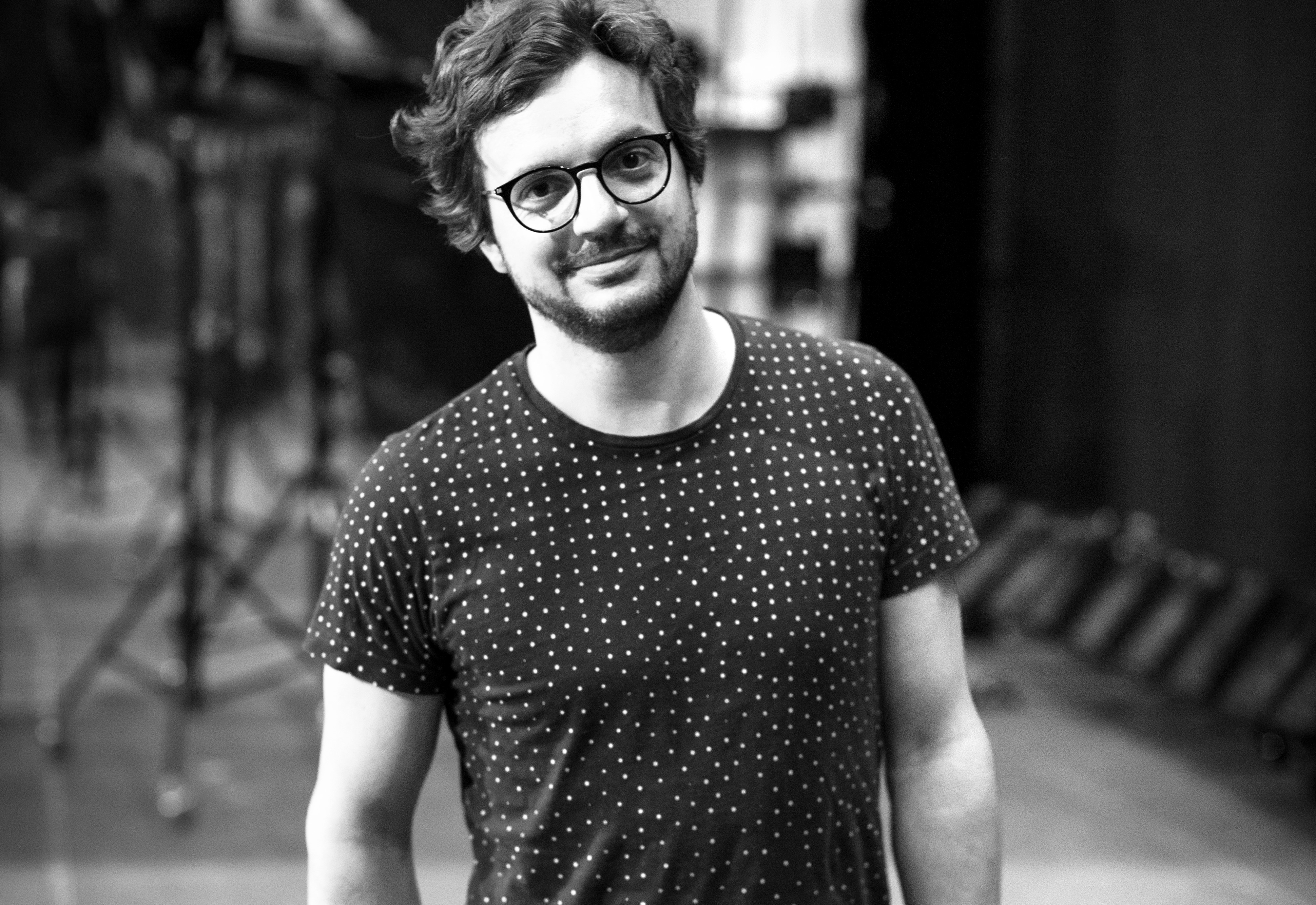 Contact
Emilien Rossier
emilien@nof.ch
+41 79 721 70 59
ABOUT

A native of Bern, director Julien Chavaz is best known for his work in contemporary opera and music theater. In 2018 Chavaz's Théâtre de l'Athénée production of Shostakovich's Moscow, Cheryomushki was shortlisted as best show of the year by Le Monde.

Past productions include Gerald Barry's The Importance of Being Earnest (Théâtre de l'Athénée Paris), Rossini's Il Barbiere di Siviglia (NOF – Nouvel Opéra Fribourg), Haendel's Acis and Galatea (Het Nationale Theater The Hague, De Kleine Komedie Amsterdam, Opéra de Massy), Marius Felix Lange's Snow White (Swiss premiere), Strauss's Die Fledermaus and Stravinsky's Mavra.

Chavaz directed a fully-staged version of Buxtehude's cycle of cantates Membra Jesu nostri in the music theater production Teenage Bodies. His chamber opera Sholololo! was shortlisted at Festival Belluard Bollwerk International. Other projects have been presented at Arcola Theater (London), Rotterdamse Schouwburg (Rotterdam), Stadsschouwburg (Utrecht), Tête à Tête Festival (London), Theater Rigiblick (Zurich) or Fri-Son (Fribourg).

Chavaz is currently Artistic Director of the NOF – Nouvel Opéra Fribourg.

As an artistic collaborator and director's assistant, he has worked with Laurent Pelly at Opéra de Paris, Santa Fe Opera, Grand Théâtre de Genève, Opéra de Lyon and Dutch National Opera Amsterdam, with Herbert Fritsch at Komische Oper Berlin and Zurich Opera House and with Sam Brown at Welsh National Opera Cardiff, Opéra national de Lorraine in Nancy and Lucerne Theater.


PROJECTS

Ursuppe. Nicholas Stücklin and Julien Chavaz.
Paris F, Centre culturel suisse, June21

Powder Her Face. Thomas Adès.
Paris F, Théâtre de l'Athénée, June21
Fribourg CH, Théâtre Equilibre, May21

Pelléas et Mélisande. Nicholas Stücklin. Based on Maeterlinck.
Paris F, Théâtre de l'Athénée, June21
Fribourg CH, Théâtre Equilibre, May21

[POSTPONED] Guillaume Tell. Gioachino Rossini.
Dublin IE. Irish National Opera, Nov.20

Il Barbiere di Siviglia. Gioachino Rossini.
Fribourg CH, Théâtre Equilibre, Dec.19-Jan.20

Acis and Galatea (revival). Georg Friedrich Haendel.
Massy F, Opéra de Massy, Nov.19

The Importance of Being Earnest. Gerald Barry.
Fribourg CH, Théâtre Equilibre, April-May.19
Paris F, Théâtre de l'Athénée, May.19

Moscou Paradis (revival). Dimitri Chostakovitch.
Vevey CH, Théâtre Le Reflet, Nov.18
Paris F, Théâtre de l'Athénée, Feb.18

Teenage Bodies (revival). Dietrich Buxtehude.
London UK, Grimeborn Festival / Arcola Theater, Aug.18

Ouvertüre. Robert Schumann.
Fribourg CH, Théâtre Equilibre, Aug.-Sept.18


-collaborations with Laurent Pelly-

I Puritani (director's collaborator). Vincenzo Bellini.
Paris F, Opéra de Paris, Sept.-Oct.19
Viva la Mamma (director's collaborator). Gaetano Donizzetti.
Geneva CH, Grand Théâtre, Dec.18-Jan.19
Candide (assistant director). Leonard Bernstein.
Santa Fe USA, Santa Fe Opera, June-Aug.18